Radar Signs
The Radar Sign are also called Speed Advisory Trailer Signs (DataSign-SATS). The DataSign-SATS are trailer mounted, self powered (solar) Variable Message Signs equipped with a Radar speed detector. They have remote and satellite tracking, radar speed readout and data logging capabilities. These portable signs are programmable, and feature a full graphic matrix display with the same dimensions as our VMS products (48W X 28H). They can be used for traffic management on road projects, mining sites, in school zones, car parks, or to notify of changes in speed zones, and other applications.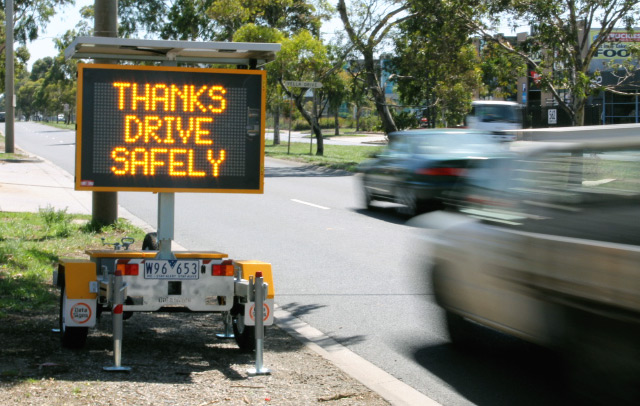 Radar Sign - DataSign-S

The radar unit fitted to the SATS is manufactured in the USA by Houston Radar.
Performance: Detection Range is typically 90+ m (300+ feet) for compact vehicles on open and level road with radar mounted at least 1.5 m (5 feet) high and pointed straight into oncoming traffic. May vary with installation and road conditions. Detection range specified is typical for speeds between 20kph and 88kph (12 to 55 mph). It tapers off below and above this speed range.
No Ongoing Calibration Required: Houston Radar checks the speed measurement accuracy of each and every radar by an automated test system by using a digital Doppler target simulator.


SATS Programming Options
Communicate with your SATS Remotely using Mobile (3G) SIM card:
WebVMS2™ from your favourite web browser (www.webvms2.net)
SMS from your Mobile phone
STREAMS - used by government Road Authorities
Locally at the Sign:
VMS COMPUTER, when fitted to Sign
PC connection using the Data Signs' VMS Designer software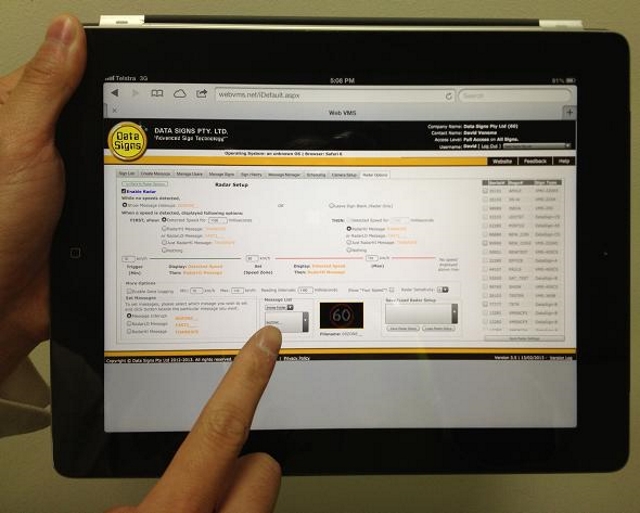 Radar Setup screen, WebVMS2™
The radar log data can be set to be emailed to your mailbox every day from your DataSign-SATS! The GPRS-enabled Datasign-SATS also has easy-to-setup radar scheduling features so it can be readily used in school zones, construction sites and other environments where the speed limit needs to change at different times during the day.
The video above shows the typical radar usage scenario; show a message until a vehicle is detected then show detected speed and either a slow down or thankyou message. The radar functionality using the web-based WebVMS2™; application is fully-featured allowing for many different speed advisory scenarios. For example, display the detected speed and then a smiley face or message if the driver is going below the set speed limit. Or, display a TOO FAST message to drivers travelling above the speed limit. However, you can opt to not display the detected speed on the Sign if the vehicle is travelling too fast. And much more...