STREAMS Message Boards
Data Signs has STREAMS compliant message boards. Current DataSign-VMS are certified to be used with STREAMS
STREAMS is used by various Road Authorities to control fixed and portable Signs and other devices on roadways, as part of an Intelligent Transport System (ITS). The STREAMS platform has been developed by Transmax. "Transmax is a full-service Intelligent Transport Systems (ITS) solutions provider that develops, deploys and supports the international award-winning ITS Platform STREAMS." See more about Transmax at www.transmax.com.au.
STREAMS is made up of two parts:
Host Control System – for example, the Traffic Management Centre at VicRoads. As the Host Control System is software, there are various versions of this software.
Field Processing Unit – the Field Processing Unit processes the commands back and forth from the Host Control Unit and the devices, through some sort of communication link. Note: A Communications Process Unit may be used instead.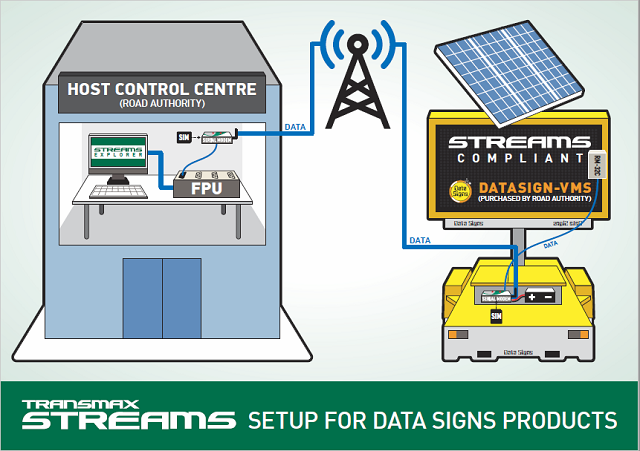 Setting up STREAMS
Manufactures of various devices used on the roadside that wish to connect their device to STREAMS, must have the device certified as compliant by Transmax. Transmax charge a fee to test each device with the manufacturer. If testing is successful, Transmax issue a compliance Statement of Support once all testing is successful.
Data Signs Pty Ltd was issued with a Statement of Support for STREAMS compliance for the RM32 Sign Controller on 26th June 2013. Important: This was specific to TSI-SP-003 protocol version 2.1.
If your DataSign-VMS is online on the Data Signs DS-Live™ portal and then it is connected to STREAMS, the DataSign-VMS message display cannot be updated from DS-Live™. The DataSign-VMS is updatable either from STREAMS or DS-Live™ - not both at the same time. You will still be able to view the GPS location and other details of the DataSign-VMS on DS-Live™, however in order to put a message onto it from DS-Live™, the STREAMS modem needs to be physically disconnected.