Variable Message Signs
Variable Message Signs (VMS) manufactured by Data Signs are Trailer Mounted, Solar Powered Message Boards. For continuous operation, the energy is stored to maintenance-free Batteries. These Data Signs message boards include local and remote programmable options and have inbuilt satellite GPS tracking. Built to Australian Standards 4852.2:2009 and Australian Design Rules for Trailer Manufacturing, our VMS Boards can be used for traffic management on road projects, as a general message boards, or as a large size dynamic electronic advertising sign. All DataSign VMS models are available in single-colour Amber or 5-Colour LED configuration.
Did you know Data Signs was the first LED message sign manufacturer in the world to develop the 5-colour LED variable message sign?
For example, fire authorities can display Fire Danger Rating information on the 5-Colour VMS model. All models can be used to advertise upcoming events, traffic control management, and can multi-task functionality when installed with the Houston speed radar, displaying vehicle approach speeds and speed specific messages. Click here for more information.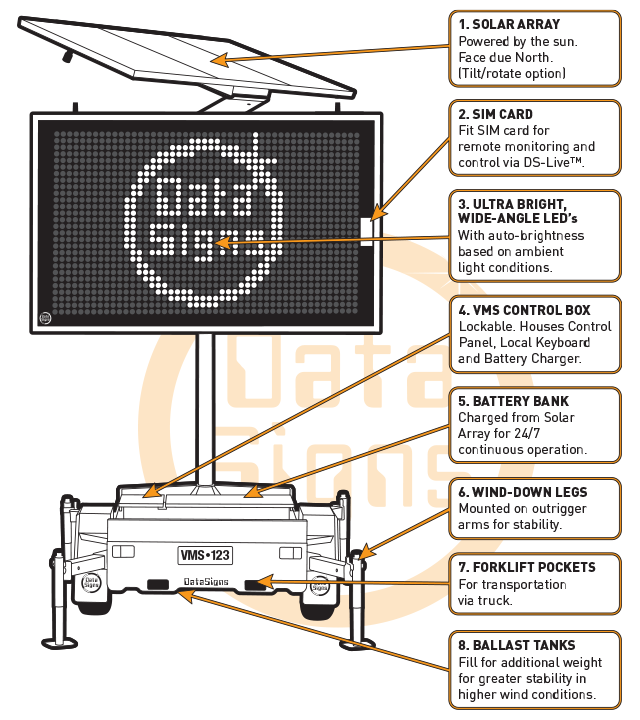 Features of the DataSign-VMS (For illustration purposes only).
The DataSign-VMS boards are available in two models/sizes, as shown on the right. The smallest is the DataSign-A and the largest is the DataSign-C model. All of these models are available as single-colour Amber, with the DataSign-A5 and DataSign-C5 all available as 5-Colour.


Solar Powered Signs
The DataSign-VMS message boards range are all solar powered signs. The solar tilt/rotate system developed by Data Signs, allows the operator to tilt and rotate the solar array to the optimal angle and heading to capture the most sunlight each day. By rotating the bottom edge of the solar array to face due north and tilting the solar array slightly for summer and more for the winter season, the amount of sunlight hitting the solar array each day increases and helps keep the batteries charged (subject to environmental conditions).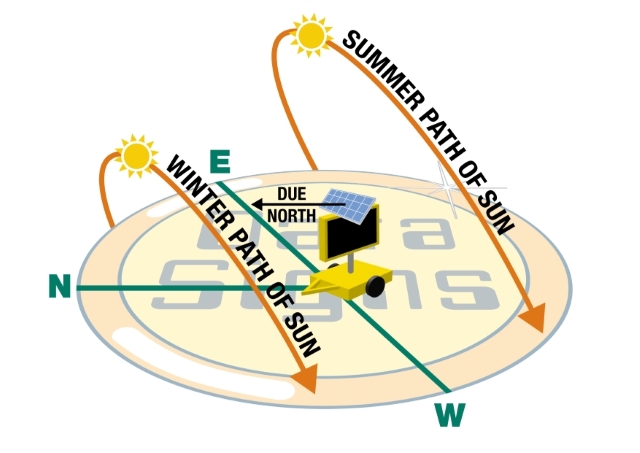 VMS Setup and Solar Tilt & Rotate
Speed Advisory Trailer in use
Lowering an actuator manually




Programming Options
Our current range of DataSign-VMS can communicate remotely using the 3G/4G Mobile Network or locally with the VMS COMPUTER.
Remote Options:
DS-Live™ via a subscription using a PC/Laptop/Phone/Tablet. SIM Card option for upgraded products, standard on new products.
STREAMS: Click here to visit our STREAMS Compliance page.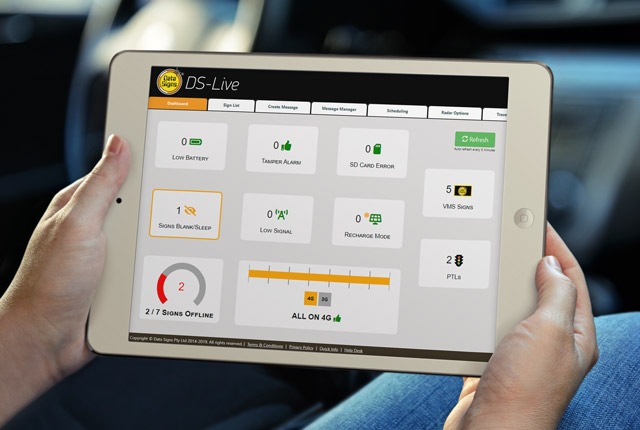 Screenshot of DS-Live™
From any internet-connected PC / Laptop or Phone, this web-based application allows you to:
Monitor your DataSign (check battery voltage, message running, LED light output, etc...).
Check position (via fitted GPS satellite tracker module).
Create and upload message for display with ease.
Schedule message displays for different times.
Setup the radar (if option fitted) ... and much more being added.
DS-Live™ is for exclusive use with Data Signs' manufactured products only.
Local Programming Option
VMS COMPUTER – Optional, to fit to Data Sign VMS.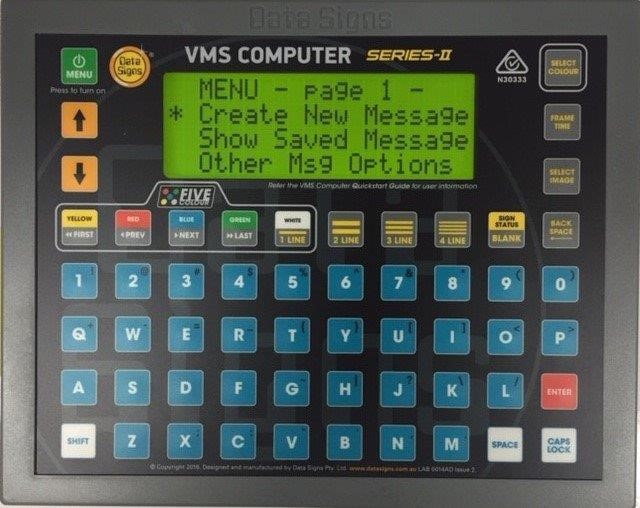 Removable or fitted on-board keyboard tablet, for programming messages direct to VMS.
Easy to program
Predefined messages and images
Program current single-colour AMBER or 5-Colour VMS
Local radar setup when fitted to sign
Backlit large LCD screen
Self-powered when connected
Rugged in design
Upgradable firmware (not remotely)
Dedicated device, not a PC or Tablet, can only be use for our DataSigns-VMS products; no incentive to steal.
Click here for the VMS COMPUTER Quick Start Guide.