Arrow-C Trailers / Arrow-B Roof Mount
Now made for DS-Live!
The Data Sign Arrow-C is Trailer-Mounted and Solar Powered, and RMS Type Approved product. Built to Australian Standard AS 4192:2006 and Australian Design Rules for Trailer Manufacturing, our Arrowboards are an integral traffic management tool for use on roadwork sites, for event traffic control or in car parks to direct traffic.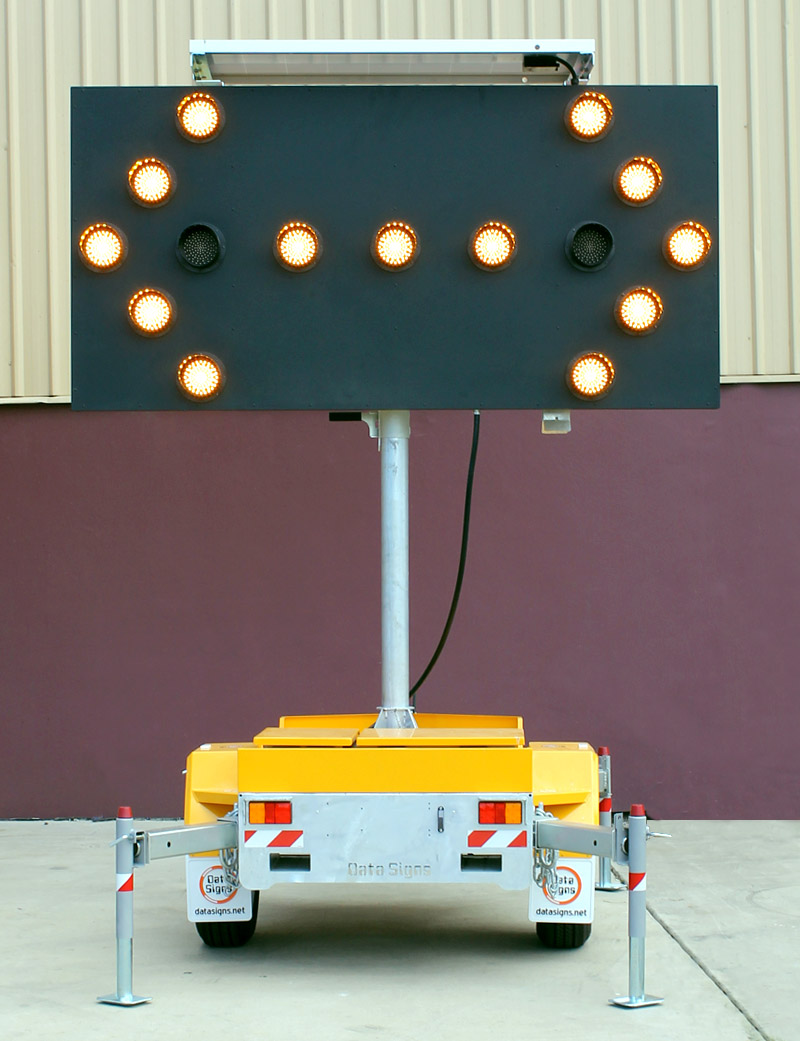 Arrowboard Type C
Built for reliability and Australian conditions with a 5-year limited warranty (see T&C's). The Arrowboard has inbuilt diagnostic checks for lamp operation on start-up, and voltage-check. Very easy to operate, uses simple controls, with selectable arrow-sequence mode available for use in all applications.
Specifications include: Ultra-bright all-LED Arrowboard lamps
Colour: Yellow / Black
Display area: 2400mm wide x 1200mm high
Features include quick one-person setup, retractable towbar for smaller footprint and security, extendable outriggers for greater stability, forklift pockets for truck transport, full electric mast with hand brake, hot dipped galvanised chassis, industrial paint finish and powder coating, disc brakes and hand brake.
Now made for DS-Live!
Satellite Tracking and Monitoring of all critical functions such as Operating Mode, Battery Levels, etc...
Data Logging of actual run time and locations, useful for hiring and charging processes.
Remote Control now possible with DS-Live
Multiple control options:
Local Control via on-board panel
Optional Smart Terminal Remote Control
DS-Live Online Control
Arrow-B Roof Mount
The DATASIGN–ARROW-B is designed and manufactured by Data Signs Australia.
It is designed to be placed on the roof of a UTE or a vehicle.
Installation and operation could not be easier than a 12V supply from the Ute or with an auxiliary 12V Battery.
Control for the Arrow is done via a Smart Terminal Remote control, NO WIRING NEEDED!
Optional, GPS Tracking and programing options can be via the DS-Live platform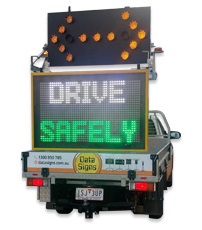 Roof Mounted Arrow Board with a VMS on a Ute (click for more information)